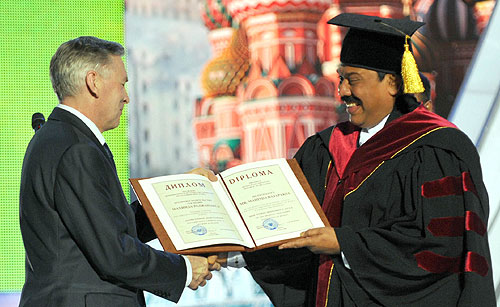 Minister of Media and Information and Cabinet Spokesman, Anura Priyadarshana Yapa described today the Honoris Causa Doctorate presented to President Mahinda Rajapaksa from the People's Friendship University of Russia (former Lumumba University) as a rare feature as only few such doctorates have been presented in its history of fifty years.
Minister Yapa addressing the media at the weekly cabinet press briefing held today at the Government Information Department said this accomplishment brought glory to the country. "Only high level personalities are awarded such prestigious doctorates" he added.
He pointed out that the international relations initiated by the President have been very successful with countries coming forward to assist Sri Lanka in its economic development drive.
The Minister was confident of the UPFA gaining a two thirds majority at the forthcoming general election and rejected rumours that were being spread by the opposition to discredit the government. "Those who boast of democracy are the people who protest opposite courts of law",he noted.
Courtesy: GDI