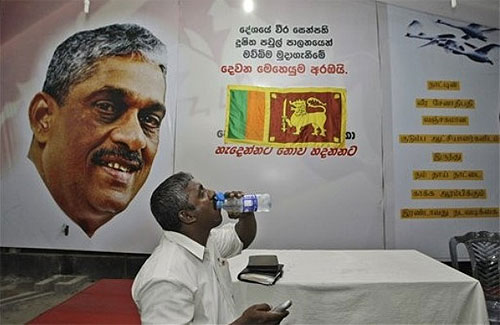 The loose Opposition Alliance that the UNF and the JVP cobbled together to field Gen (Retd) Sarath Fonseka under the Swan symbol has collapsed because of the UNP's decision to contest the forthcoming parliamentary polls under the Elephant symbol.
Deprived of the Swan symbol of the National Democratic Front (NDF), Fonseka and the JVP have decided to contest the parliamentary polls on the United Democratic Front (UDF) ticket under the Hare symbol.
The TNA and the SLMC will contest together in the North and the East.
The UNF offered to appoint Fonseka to Parliament through the National List, according to sources. But, he has decided to contest from the Galle District, where he hails from.
Although the UNF and the UDF are exploring the possibility of forging a no-contest pact, political observers point out that under the district-based Proportional Representation System, such an arrangement will not be possible unless one party forgoes an entire electoral district to prevent a split in the opposition vote.
However, it is not possible that the UNP will agree to such an agreement and grant some of its parliamentary seats to the UDF on a platter and place itself at the mercy of the JVP and Fonseka, sources say.
UNP Leader Ranil Wickremesinghe has come under severe criticism from the party's rank and file and some senior leaders for the absence of the Elephant Symbol and the colour Green at the recently concluded presidential election.
The JVP contested the last parliamentary polls in 2004 on the UPFA ticket and won 39 seats. Within less than one year, it broke ranks and sat in the opposition threatening survival of the UPFA.
Courtesy: Island