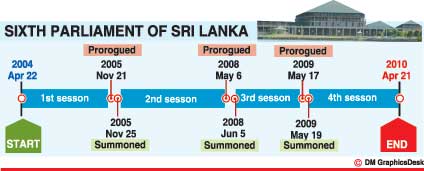 President Mahinda Rajapaksa is expected to dissolve parliament tonight with the general election likely on April 8, sources close to the government said yesterday.
The term of the present parliament ends on April 22 but the President can with a presidential proclamation end its term earlier and he is expected to do so when he returns to Sri Lanka today.
The week between February 19 to 26 would likely to be the week for nominations, sources said.
Political parties have begun making preparations for the election with some prospective candidates pasting their posters on city walls.
The last general election was held in April 2004 and the UPFA secured a majority of seats. Meanwhile, up to today 40 MPs who were elected on the UNP ticket
have crossed over to the ruling UPFA with all of them being appointed as Cabinet, non Cabinet or Deputy Ministers.
The UPFA has appointed three nomination boards to select candidates for the upcoming general election while an appeal board headed by Prime Minister Ratnasiri Wickramanayake was also appointed to handle complaints by prospective candidates who are likely to be left out.
The main opposition United National Party (UNP) is also busy with preparations for the election. It is holding talks with other opposition political parties in a bid to contest the poll as an alliance. However, most UNP organizers have insisted that the party should not compromise on its elephant symbol for the general elections. The UNP is expected to take a final decision at its Working Committee meeting on Thursday.
Courtesy: Daily Mirror