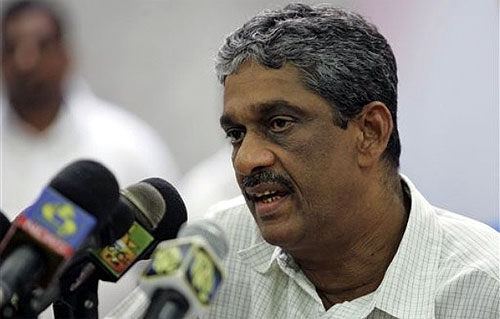 Ex-Army commander Gen.Sarath Fonseka was taken into custody by military personnel from his office around 9.00 pm on Monday February 8th.
A contingent of Military Police personnel surrounded Gen.Fonseka's office & took him into custody along with his media secy Dr.Senaka Silva.
General Sarath Fonseka talks with the family members of his security officers, who have been arrested after the presidential elections, in Colombo February 8, 2010.-Reuters pic
Military spokesperson maj-Gen Prasad Samarasinghe confirmed to the media that Gen.Fonseka had been arrested for alleged military offences.
Media photographers were prevented from filming the arrest and the military confiscated films from photojournalists who had taken shots.
Fonseka was quoted in the media earlier as saying that the govt was not arresting him because all allegations against him were fabricated.
Gen.Fonseka will be court-martialled says Lakshman Hulugalle, director media centre for national security.
If Fonseka is to face court-martial at the hands of a military court he is likely to be tried for alleged treason & divulging military secrets.
The media too will be debarred from covering court-martial proceedings.
In an earlier news report "Daily Mirror" quoted Fonseka as saying that he was ready to be arrested & that govt was fabricating stories about him.
A joint Army-Police investigation is currently on to probe Fonseka's complicity in alleged coup d'etat plot & assassination of the President.
The Police too will be conducting a separate inquiry into Fonseka's alleged involvement in the killings of Editor Lasantha Wickrematunga.
Another inquiry will be done by Police into killing of Tamil National Alliance MP Nadarajah Raviraj.
Click for updates: http://www.twitter.com/dbsjeyaraj
Courtesy: Transcurrent