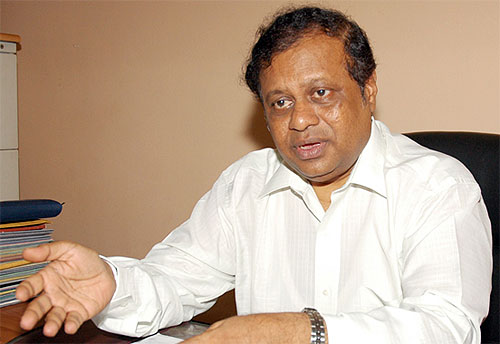 UPFA General Secretary and Education Minister Susil Premajayantha said the Opposition lacks the knowledge of basic arithmetic and it is engaged in levelling baseless allegation at the Government over the election results.
The Minister said the people cannot be taken for a ride by the adverse media campaign carried out by the Opposition members to the effect that the results of the recently concluded Presidential election have been manipulated.
Minister Premajayantha was speaking at the presentation of appointments to over 173 English teachers and 111 Moulavis at the Eduction Ministry on Wednesday.
The representatives of the candidates who contested the last Presidential poll were given a copy of the result sheet in which the number of votes taken by each candidate have been clearly mentioned. He said ballot papers are taken out of the boxes by the officials in front of candidates' representatives and the counting is also carried out in their presence.
Refuting the allegation by the joint opposition that the election results were manipulated by the computer, the Minister said not a single occasion that the results were calculated using computers.
He said there are 250,000 teachers for 4.2 million students in the country.
The Country has made a remarkable achievement in terms of student-teacher ratio which was 18:1 this year.
The student teacher ratio in several developed countries are still 20:1 and Sri Lanka's achievement in terms of student-teacher ratio is quite satisfactory, he said.
The Minister stressed that the literacy rate of the people in the age group of 15 - 25 is 96 percent and the per capita income has also increased from US$ 1200 to 2200 within last four years.
He said all these factors have resulted in emerging Sri Lanka from a third world country to the middle income earners category.
Petroleum and Natural Resources Minister A.H.M. Fowzie, Deputy Minister K.A. Bais, Western Province Governor Alavi Mowlana, Presidential Advisor A.H.M. Azwer , Education Ministry Secretary Nimal Bandara were among those present.
Courtesy: Daily News