He does not behave like a 1.8 million majority winner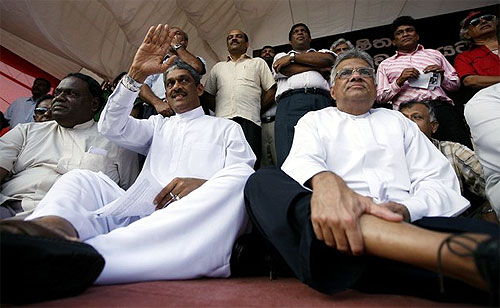 President Mahinda Rajapaksa's main rival at last week's Presidential Election, Sarath Fonseka said that the President was still scared of him despite having 'won' by over 1.8 million votes.
Addressing a joint opposition meeting at Hyde Park in Colombo on Wednesday, to protest the "fraudulent manner" in which Rajapaksa was re-elected President, Fonseka said that the harassment he and his supporters had been subjected to since January 26, was indicative of the fear in the minds of the Rajapaksas.
"I am the duly elected President of Sri Lanka and Mahinda Rajapaksa is the Rogue President. If he had really won the election, there is no need for him to behave like a white Idi Amin. The guilt in him is showing by his conduct since the purported result was announced," he said. "We are uncovering by the day, large numbers of ballots cast in my favour, that had been mysteriously discarded or burnt. More evidence will be produced to prove the fraudulent manner in which Rajapaksa re-elected himself."
Fonseka said that he will not let down the large number of people who had voted for him. "Hundreds of my supporters who had travelled by bus to Hyde Park today, had been turned away by the Police."
Several senior army officers, he said have been sidelined in the aftermath of the Presidential Poll, by falsely implicating them in a coup attempt led by him. He did not know that these officers were acutally supportive of him, nor was there any contact between them. He and many others had booked into the Cinnamon Lakeside Hotel on election day, to protect their lives and not to stage a coup as the Rajapaksas alleged.
Leaders of the joint opposition alliance Ranil Wickremesinghe, Rauff Hakeem, Mangala Samaraweera, Somawansa Amerasinghe, Mano Ganeshan, Wickremabahu Karunaratne and Tilvin Silva, said that their agitation had only just begun and will culminate only when they have rid the country of the Rajapaksa dictatorship, which was a replica of Idi Amin's rule.
Courtesy: Island