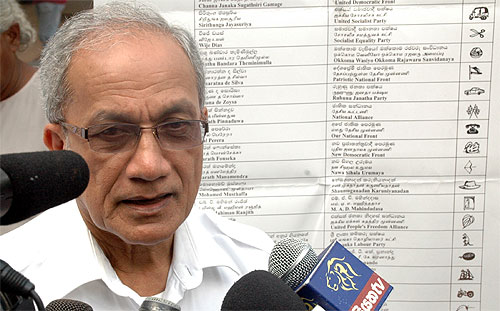 National Freedom Front national organiser and Kalutara district MP Jayantha Samaraweera yesterday condemned JVP leader Somawansa Amarasinghe's alleged attempts to invite foreign powers to 'meddle in Sri Lanka's internal affairs'.
Samaraweera said the JVP was giving a new opportunity to foreign forces to undermine Sri Lanka's sovereignty through its false claims of malpractices at last week's Presidential election.
He pointed out that the polling day on January 26 was peaceful like a 'Poya' day and rejected opposition claims of fraud during the election process.
Addressing a news conference at his party office, Samaraweera said the election results had highlighted what he called the JVP's bankruptcy.
He said the party had lost its grass-root support and was struggling to find polling agents for upcoming parliamentary elections and people to paste posters.
Samaraweera said Amarasinghe was now trying to play the role of politicians such as Wickramabahu Karunaratne and Jayalath Jayawardena to undermine Sri Lanka's interests at various international fora.
He denied Amarasinghe's claims of media suppression and human rights violations in Sri Lanka and accused him of becoming a tool of vested interests in foreign countries determined to destablise the government of President Mahinda Rajapaksa.
He warned that Amarasinghe's actions could bring Sri Lanka's armed forces into disrepute.
Samaraweera said JVP supporters in villagers were now highly disillusioned with party leaders for having misled them during the Presidential elections by forging unprincipled alliances with politicians such as Ranil Wickremesinghe, R Sampanthan and Mano Ganesan.
Courtesy: Island