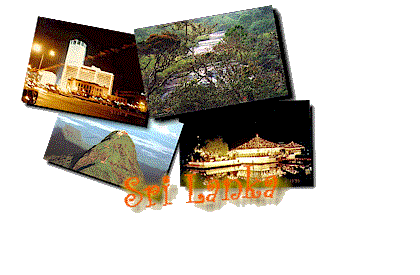 Here are some breathtaking pictures of my motherland. I hope these pictures will refresh your memories about Sri Lanka.... If you want to get a large image just click on the relevant picture. All these pictures were taken by me. They were taken on normal 35mm film using a Pentax Camera - I simply scanned in the photos as 24-bit true colour (16 million colours) JPEGs. You won't be able to make out anything proper if your display is set at anything less than 256 colours. Of course, with 16 million colours you get to see what the photos really look like.


These images are copyright Thusitha Rajapaksa . You may download them if you want, but I would appreciate it if you asked my permission before using them for anything other than personal / non-profit purposes.



---
---
Copyright© 1997 All Rights Reserved
Last Modified: Tuesday, 11 Nov 1997 22:25:00 by Thusitha Rajapaksa
---
Disclaimer:
This is a personal page published by the author. The ideas and information expressed on it have not been approved or authorised by Monash University either explicitly or impliedly. In no event shall Monash University be liable for any damages whatsoever resulting from any action arising in connection with the use of this information or its publication, including any action for infringement of copyright or defamation.
---