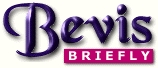 Text by Richard Simon (May 1991)
Photography by Dominic Sansoni
Web Design by Muditha Abhayagunawardhana

BEVIS BAWA IS AN OLD MAN NOW trapped in his wheelchair, slowly losing his hearing and sense of touch. Age has robbed him of the paradise he has spent his long life creating, and shrunk his world to a circle whose diameter is the span of his arms. A work of art is never finished," he says, yet Brief, the name of his famous home and garden, is finished now, willy-nilly; nature has forced the artist to lay down his brush.

It sounds like a tragedy, but Bevis Bawa - Lanka's famed and beloved artist and bonvivant - does not cut a tragic figure. He is one of those men who learned in youth the secret of extracting as much from life as it has to give, and it is a secret he has never forgotten. Even now, his charm, his sense of humour and feel for a good story remain undiminished, and in spite of his own infirmities, he has no difficulty putting a visitor at ease. Indeed it is almost impossible not to relax in his presence.

His house and its legendary garden share this quality; in fact, they seem to emanate from him, to be extensions of his felicitous personality. Pass through the tall, statue-capped gateway set in the thick bamboo hedge and you enter Bevis's universe. Time runs more slowly here, and the world's increasing ugliness does not intrude. Along the jungly perimeter path, through the Japanese garden, across the wide lawns and by the round pond, everywhere in the garden its creator's presence is manifest, though Bevis himself sits becalmed on his verandah, far away, invisible.

This story about Bevis, and about Brief. The two are inseparable, in the public mind as much as in physical fact. The series of articles on landscape gardening he wrote for the Ceylon Daily News in the '50s and '60s was called "Briefly by Bevis." When the subject matter burst through the neat hedges and fences made by his editors and invaded the drawing rooms of Colombo society, the barracks and parade grounds of the army and even the gubernatorial chambers of Queen's House itself (these being Bevis's erstwhile stamping grounds), he retained the title. It seemed even more appropriate then, for the articles were brief indeed, slim banderillas puncturing the bovine complacency of upper-class Ceylon. British civil servants in the last days of the Raj ("The Empire's going to the dogs, I assure you - now what about another cup of tea"), brown sahibs who sang the praises of national culture from the back seats of Cadillacs, fake "intellectuals" ("their intellect boils down to nothing more than their incapacity to hold what they guzzle") and social-climbing bureaucrats ("Polovayatage Pabis became Santiago De Silva...and shoved 'old boy' and 'what-ho!' end 'chin-chin' into the many vacant gaps in his conversation") - all these and many more were lovingly and memorably skewered. It was a necessary bloodletting, and his readers adored him for it. Continued...